Finding the Carbon in Sugar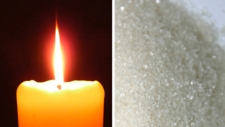 Life Science
Discover how to teach the hands-on activity, "Finding the Carbon in Sugar," to help students learn about combustion and energy.
Demonstration slide set for teachers.
Author(s):
Joseph G. Marx, PhD
Showing Results for:
materials needed
Return to Presentation
Why Use Cloning Technology?
Human Urinary System Diagram
Cells: What Do They Really Look Like?
---
Funded by the following grant(s)

My Health My World: National Dissemination
Grant Number: 5R25ES009259
The Environment as a Context for Opportunities in Schools
Grant Number: 5R25ES010698, R25ES06932
---
Foundations for the Future: Capitalizing on Technology to Promote Equity, Access and Quality in Elementary Science Education