Water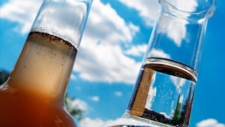 Students take a fresh look at water and examine its critical importance to the well-being of all living creatures.
This slide set was designed for use with The Science of Water Teacher's Guide, which contains inquiry-based activities that enable students to explore water, behavior of molecules, the water cycle, how we use water, that living things are made mostly of water, how water is taken in and released from the body, what a one part per million solution is, separation techniques, and non-point source water pollution.
Author(s):
Nancy Moreno, PhD, and Barbara Tharp, MS.
---
Funded by the following grant(s)

My Health My World: National Dissemination
Grant Number: 5R25ES009259
The Environment as a Context for Opportunities in Schools
Grant Number: 5R25ES010698, R25ES06932
---
Foundations for the Future: Capitalizing on Technology to Promote Equity, Access and Quality in Elementary Science Education