HIV/AIDS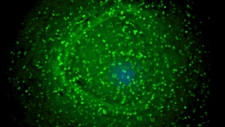 In a series of 5 essays and 5 activities, students investigate the HIV virus and pandemic. They learn about the structure, function and replication cycle of HIV virus particles; how diseases spread, and act as epidemiologists while using real data to track the spread of HIV/AIDS around the world.
This slide set is designed for use with activities found in The Science of HIV/AIDS Teacher's Guide.
Author(s):
Christine Herrmann, PhD
Showing Results for:
retrovirus
Return to Presentation
The Reproductive Cycle of a Retrovirus—HIV
Which Human Diseases Are Caused By Viruses?
---
Funded by the following grant(s)
MicroMatters
Grant Number: 5R25RR018605