Author(s):
Ann R. Kennedy, PhD
Heavy Ions
Transcript:
Heavy ions contain different numbers of protons and neutrons (called nucleons) in the nucleus of atoms, and large numbers of these heavy ions are found in outer space.
Reference:
Rusek, Adam. Heavy Ions in Space. By permission.
---
Funded by the following grant(s)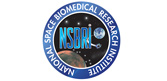 This work was supported by National Space Biomedical Research Institute through NASA cooperative agreement NCC 9-58.