Flu Basics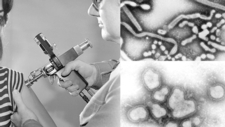 The flu is a contagious disease caused by the influenza type A, B, and C viruses. It spreads through the air, and can produce high fever, headache, sore throat, non-productive and dry cough, muscle aches, some gastrointestinal problems, and extreme tiredness. More than 200,000 persons are hospitalized in the US each year due to flu.
Author(s):
Sonia Rahmati Clayton, PhD, and Nancy Moreno, PhD
Showing Results for:
respiratory disease
Return to Presentation
What Organisms and Host Cells Do Viruses Infect?