Mad Cow Disease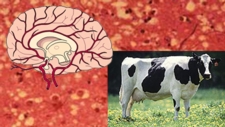 Mad Cow Disease (bovine spongiform encephalopathy) is an illness that attacks the brain and spinal cord in adult cattle. The name "Mad Cow Disease" comes from the strange behavior and symptoms seen in cattle that have the disease. Scientists have hypothesized that humans could contract BSE by consuming parts of the nervous system from infected cattle.
Author(s):
Christine Herrmann, PhD
Showing Results for:
prions
Return to Presentation
Are There Infectious Agents Simpler Than Viruses?
Mad Cow Disease: Transmission