The Cinnamon Challenge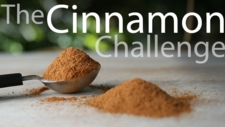 The "Cinnamon Challenge" is a social phenomenon, spread largely through social media, which carries serious risks. Remarkably, people who participate in this "challenge" willingly accept entirely avoidable risk, even though there is no apparent benefit. The rise of the "Cinnamon Challenge" demonstrates how social media can quickly spread a cultural trend among teenagers, comedians, NBA players, and even politicians.
Your Slide Tray is Empty.